The Israeli Freemason - April 2006
29.05.2006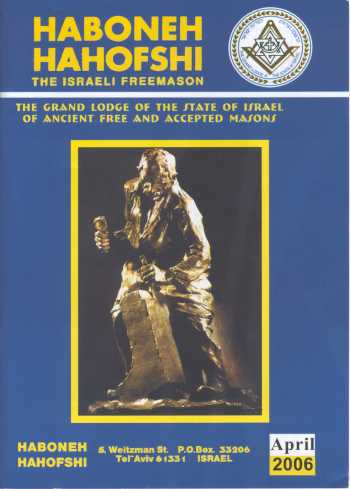 EDITORIAL
A LIVING TRADITION
Every new issue of Haboneh Hahofshi presents a new challenge: how to combine the temporary with the perennial: the day-to-day happenings in the Masonic lodges in Israel and abroad, with the everlasting truths of Masonic philosophy and traditions, expressed in symbols that disclose their inner meaning only to those patient and diligent enough to pursue their search for knowledge beyond the dry words of ritual. 
In this issue we have the words of Grand Master Sami Raphaeli, reminding us of the need to strengthen the fratemal bonds that unite Masons throughout the world, and we also have 
the report on the honors conferred on members - of our fratemity . 
A visit to the impressive Tokyo Masonic center underlines the universal character of the Order, while a paper on Bartolome Mitre, the Argentinean President, who ruled on the other end of the world, gives proper confirmation to this fact. 
The Hebrew part of the joumal is larger this time than in the past. In a"ddition to reporting the wise words pronounced by our indefatigable Grand Master on various occasions, we have been fortunate in receiving permission to translate and publish the address pronounced the ro Grand Master of the United Grand Lodge of England, Lord North mpton before an assembly of the Comerstone Society , an address of particular alue and pertinence in these days. Those who wish to read the originai in Eng find it in the following web page: http:/ /comerstonesociety .corn/lnsight/ Arti les/articles.html. 
The Comerstone Society "exis' to ovide a forum where the meaning and relevance of Freemasonry can be discussed in an open and constructive environment where the way our rituals are performed can be explored and enhanced and where Masons can leam together to live out the words we speak. " 
Actually, this should be the task of every individuai Masonic lodge.
Leon Zeldis
PS Review of Freemasonry Alerts are email updates of the latest relevant news and papers published on this site


Subscribe Now
Masonic Int'l News


English

Française

Español

Português

Italiano