FIAT LUX - Philalethes Society releases first hard cover book in 80 years
28.10.2009

FIAT LUX
Philalethes Society releases first hard cover book in 80 years.
The Philalethes Society is the oldest International Masonic Research Society in the world, dating back to 1928. It began publishing its magazine in 1946 and has done so continuously (with the exception of 1953 following the death of its editor) ever since.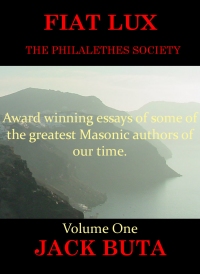 Some of the greatest Masonic writers the Fraternity has produced have contributed to its content. With the assistance of Brother Brent Morris,  Brother Jack Buta has put together a collection of award winning essays which appeared  in the magazine over a 30 year period from the 1950's to the 1980's.
The book FIAT LUX contains the works of Masonic authors such as Wallace McLeod, Allen Roberts, Ross Hepburn, Roscoe Pound, and Alphonse Cerza. More than 28 authors are included in the first volume, including Allen Roberts famous "Masonry under Two Flags" detailing the role of Freemasonry during the American Civil War.
At least two more volumes are planned if the book lives up to Philalethes Society expectations. With over 500 books ordered prior to publishing, and the initial response from readers, it will not be too long before volume two is published.
Here are a few of the praises for FIAT LUX.
Brother John Belton of the UGLE states:  
"Jack (and Brent)
"This is a pretty powerful volume, good authors, great content, varied subjects. Proves there is no sell by date on good writing"
Tony Pope, editor of the New Zealand Research Magazine "Harashim" writes: 
FIAT LUX is a must buy for every Masonic library, large or small, rich or poor, wherever English is spoken. Why? Because it showcases some of the best articles from the Philalethes Magazine over the past sixty years; it provides an introduction to authors and ideas that otherwise might have remained at a perpetual distance from the average Masonic reader; and because—at $24.95 for a hardcover presentation of the work of 26 award-winning authors—there will never be a better bargain."
Karen Kidd, author of Haunted Chambers, the lives of early women Freemasons has this to say:
"In FIAT LUX: 1956 - 1986, Brother Jack Buta has compiled the scrivenings of the mid-20th Century All-Stars of Masonic scholarship. I'll be glad to have this in my library."
As a member benefit for a new or renewed membership for 2010,  The Philalethes Society  will send a free copy of "FIAT LUX." 
Otherwise  you can buy it on the Philalethes Society Online Store