A Certificate of Initiation signed by Prince Hall, 1799 June 23.
09.12.2008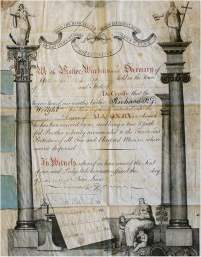 The W.E.B. Du Bois Institute at Harvard University, Massachusetts, has recently given Houghton Library a Masonic membership certificate signed by Prince Hall. This important document, dated June 23, 1799, is the latest in a series of gifts from the Du Bois Institute to Houghton Library designed to strengthen Harvardís increasingly significant research resources for African and African-American history and literature.

It is notable that this Initiation certificate, for abolitionist Richard P. G. Wright inducting him into the "African Lodge" of Masonry in Boston, is signed by Prince Hall (master), George Medallion (senior warden), Jube Hill (junior warden), and William Smith (secretary). The form is printed in black with manuscript flourishes in red ink, and is filled in and signed in brown and black ink. Also printed on the certificate are three Roman columns and various imagery including a woman with children, a skull and cross bones, an hour glass, and other items.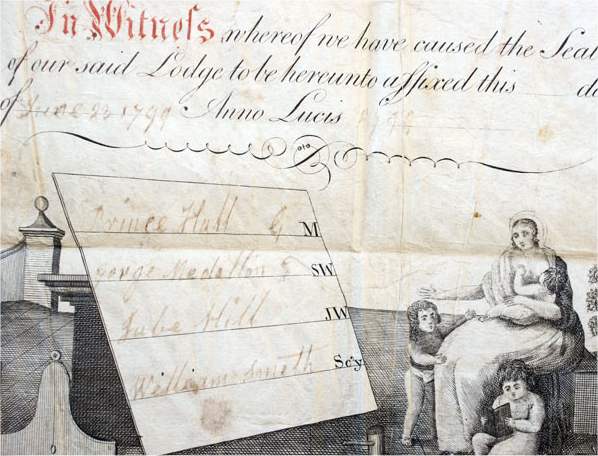 Source: Harvard University, Massachusetts, All rights Reserved.
Images may not be used or reproduced without permission by Houghton Library, Harvard University.
PS Review of Freemasonry Alerts are email updates of the latest relevant news and papers published on this site


Subscribe Now
Masonic Int'l News


English

Française

Español

Português

Italiano