WE THREE OR THREE SUCH AS WE

Judith Rasoletti Emile Lancée

Published by LMB bookstore

Format: Paperback
Size: 148 x 208 mm
Pages: 232
ISBN: 978-90-5595-053-9
Published: May 2008
Price, € 32,50 inclusive music CD

Available from the publisher: LMB bookstore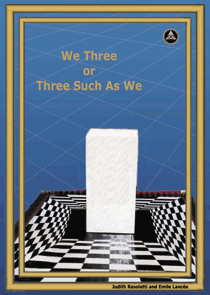 Introduction:

This book captures moments in the life of three women Freemasons over a period of 150 years: Aimée Bothwell-Gosse, Marjorie C. Debenham and Charlotte Jones. They were honored with the 33rd Degree, the highest degree of the Ancient and Accepted Scottish Rite, for their merit and lifelong dedication. Yet their stories are mostly unknown. Bothwell-Gosse was a respected Masonic scholar, researcher and prolific writer, having published a quarterly magazine for over forty years and one of the few women who was an active member of operative stonemason's lodges. Debenham's Masonic career is equally illustrious; like her predecessor, she deepened the inquiry into the symbolism and ritual workings of the Craft through writing and teaching. Jones, in turn, focuses on safeguarding the wisdom that becomes part of the initiate's journey as well as promoting the ideas of tolerance and respect among all human beings. Together, their contributions to the ancient Craft of Masons are countless as they were at the forefront of great changes in their society and within Freemasonry. Founders of Lodges, Grand Lodges and an international organization, the International Masonic Union CATENA, they were instrumental in preserving an ancient lineage and way of working within Freemasonry that has been transmitted throughout the centuries.
About the authors::

Judith Rasoletti Ph.D., 33dgr, Immediate Past-Master of the mixed Lodge "Elizabeth St. Leger No. 5" in Miami, Florida.

Emile Lancée, 4dgr, member of the mixed Lodge "The Rising Star No. 4" in Utrecht, The Netherlands, working under the jurisdiction of The Order of Ancient Free Masonry for Men and Women.