Alain Bernheim , born in Paris and since 2002 a French resident in Switzerland, stopped his musical career in 1980 for health reasons after giving some 2,000 concerts and piano recitals. He was made a Mason in 1963, belongs to Masonry Universal Lodge Nr.40, in Geneva (Swiss Grand Lodge Alpina) and was elected WM of Lodge No. 30, Ars Macionica (Regular Grand Lodge of Belgium) in 2006, and is a honorary founding member of the Grand Lodge of Mauritius. He is a 33°, Inspector General Honorary of the Supreme Council (S. J.), Visitor General Honorary and Chapter Knight of the Great Priory of Belgium, and a member of the Royal Order of Scotland.

The Scottish Rite Research Society made him a Fellow and presented him with the Albert G. Mackey Award for Excellence in Masonic Scholarship in 2001. He was elected a member of the Masonic Brotherhood of the Blue Forget-Me-Not in 1996 and a Blue Friar in 2007.

On Tuesday, October 6, 2009, the Scottish Rite Research Society (SRRS) during its annual meeting in the Congressional Room of the Capital Hilton Hotel in Washington (D. C.), awarded Ill. Alain Bernheim, 33° the Albert Gallatin Mackey Award "for Lifetime Achievement", a distinction which was awarded five times only since the SRRS was founded and never before to a non-American Brother. Read Bernheim's speech: My Approach to Masonic History

Quatuor Coronati Lodge No. 2076, London, awarded him the Norman Spencer Prize twice (1986 and 1993) and he is presently a full member and an Officer of the Lodge.

Besides some 150 research papers published since 1967 in French, English and German masonic magazines such as Heredom, Ars Quatuor Coronatorum, Renaissance Traditionnelle, Acta Macionica , Alpina, Eleusis etc., he wrote Les Débuts de la Franc-Maçonnerie à Genève et en Suisse (Slatkine, Geneva 1994), some sixty entries of the Encyclopédie de la Franc-Maçonnerie (Hachette, Paris 2000), Réalité Maçonnique (GRA, Lausanne 2007) and Une certaine idée de la franc-maçonnerie (Dervy, Paris 2008).

His book, Le Rite en 33 grades - De Frederick Dalcho à Charles Riandey (Dervy, Paris), came out in September 2011 and awarded "Prix du livre d'histoire maçonnique 2011".
His latest book, Ramsay et ses deux discours (Télètes, Paris), came out in January 2012.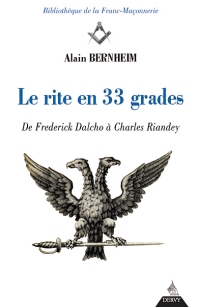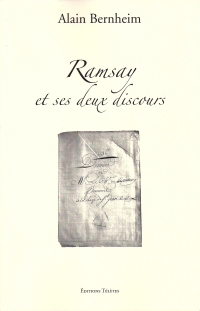 *Read:
BIBLIOGRAPHY

* Le rite en 33 grades; de Frederick Dalcho à Charles Riandey
Read Book-Review
Buy
at Amazon.com
* Ramsay et ses deux discours
Buy
at Amazon.fr