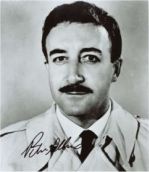 To label any subject unsuitable for comedy is to admit defeat
Peter Sellers
Peter Sellers epitomised the unhappy clown. He was a brilliant comedian and a sad man. His brief involvement in Freemasonry and his attitude towards it reflected his discontented life.
Peter was very nearly born on stage. His mother began her labour contractions in the middle of an act and performed to the finish before being rushed to hospital in Southsea, Hampshire to deliver her baby. It was the 8th of September 1925 and an ominous start to a difficult childhood. He was the second son of the vaudeville artistes, Peggy and William Sellers and was named Richard Henry. He was called Peter in memory of the couple's first child who had sadly died at birth two years earlier. His mother, a singer and dancer, was back on stage two weeks later, Peter in her arms crying to the audience's applause! Just a year earlier on 18 July 1924 his father was initiated into Freemasonry in the Chelsea Lodge number 3098 in London. This was to influence Peter's limited Masonic career.
He could have been named Daniel after his illustrious great-great-grandfather, Daniel Mendoza (1764-1836), famed Portuguese-Jewish bare-fisted pugilist, who styled himself Mendoza the Jew and was known as the father of scientific boxing. In 1792 he defeated William Ward and became the heavyweight-boxing champion of England, a title he retained for three years. Peter Sellers once said . . . 'both my mother (who is Jewish) and I bear a most remarkable resemblance to him – it is almost uncanny'. Was it a hereditary tendency than that may explain Peter Sellers' recorded aggressive streak, which did not serve him well through his life? His earliest professional performances as a teenager were as a drummer and he became almost obsessed with his addiction to the drums. This has been interpreted as an outlet for his bad tempered predisposition. It manifested itself in his early youth. He was defiant as a toddler and naughty and disobedient.
Whilst his mother doted on him, an imposition of her emotions that was to influence him throughout his life, she also, by the nature of her work, often neglected him for days on end.
His father, a pianist, was an intelligent but uneducated and weak man, frequently absent from home. They were a poor family. Peter recalled his early youth always in the back of his parent's car moving from venue to venue and, almost as often, moving homes to avoid paying rent. It was a sad childhood, made no happier by his parents sending him to the Catholic St Mark's and St Aloysius' School, run by the Brothers of Our Lady of Mercy. He was the only Jewish boy in the school, and quipped later than he recited Christian prayers far better than any other boy in the school.
In 1940, as England declared war on Germany, Peter was 14 years old and typically refused to move out of London to Cambridge, with the rest of the youngsters and women being evacuated. It interrupted his education. His natural talents, however, were already beginning to surface. He impressed young girlfriends with his almost eerie talent for mimicking. On his 17th birthday in September 1943 Peter was obliged to enlist. He chose the Air Force in the hope of becoming a pilot but ended up in the Entertainment Division of the RAF known as the Gang Shows. Here he first met Michael Bentine with whom he was later to found the Goons. Within a year Peter was posted to India and after the war served in both occupied Germany and France before his demobilisation in December 1946.
It is not clear what may have induced Peter to become a Freemason on 16 July 1948. As already mentioned, his father William had been initiated in 1924. William Sellers, who originally spelt his name Seller without the last 's', was passed on 17th October 1924 and raised March 1925 aged 27 in Chelsea Lodge. At the time he gave his address as 85 Sydenham Place, Bradford, Yorkshire but was excluded for non-payment of fees in 1928 - a reflection of the financial state of affairs of the Sellers family when Peter was just 3 years old. In November 1945, no doubt aware of the possibility of his son becoming a Mason, Bill rejoined the Lodge now giving the familiar address, also used by Peter, in East Finchley, North London. He was present at Peter's initiation, as well as his passing on 21 January 1949 and raising on 19 November 1951. The Chelsea Lodge number 3098 founded in 1905 was an almost obvious if not a natural choice for both father and son. It was and remains the mother Lodge of the variety profession, founded by 34 brethren consisting entirely of theatrical managers, music hall artistes, comedians, stage managers and musical directors. It is still today the best-known Lodge for the entertainment industry and has had, and still has, a myriad of famous and lesser-known artists as members.
Although Peter Sellers remained a member of the Chelsea Lodge to his dying day in July 1980, he never once appears to have attended Lodge except for the three meetings in which he took part. This period in his life was both a busy and important one. He was an ambitious man and was building his career. In 1949 he used his talent for impersonation in a most mischievous way to obtain his first audition at the age of 23. He rang Roy Speer, the producer of the popular radio program Ray's a Laugh and using Kenneth Horne's voice, insisted that Speer should really consider auditioning this youngster called Peter Sellers, a wonderful new performer. He admitted on the telephone line who he really was and his cheeky approach paid off. He was soon to become a regular member of the cast.
It is not inconceivable that Peter's purpose in joining Freemasonry was to attain his commercial ambitions through the contacts that he was able to make. There were a host of variety artists, entrepreneurs and musical directors present at Peter's initiation including, among many others, Bud Flanagan and Albert Le Fre. Although the minute books for the period from 1925 to 1956 are missing, the attendance register shows 76 brethren present, a considerably smaller number than the 200 or more usually in attendance as recorded for most meetings. Rather unusually Peter Sellers' signature appears among those of the members of the Lodge. (A candidate would normally sign a 'declaration book' and only sign in as a member on his second attendance.) Among the guests at his initiation on 16 July 1948 I was pleasantly surprised to find the name of Bro Ronnie Bridges who signed in as a Master Mason of the Old Brentwood Lodge No 5342 and a guest of Charles Rose. (Ronnie was later to become a joining member of the Lodge). Many Brethren in England will know Bro Ronnie. At 82 he is still very active as an organist to many lodges and lectures as often as he is invited to do so, especially in the London Area. Ronnie knew Peter Sellers personally very well.
In March 1948, three months before his initiation into Freemasonry, Peter Sellers applied to the well known impresario Vivian Van Damm for a job at the famous Windmill Theatre. Van Damm had already employed Ronnie some years earlier and Ronnie was asked to accompany Peter on the piano for his audition. Peter was singing a song written for him by his father William. This was a small community of artists. It was here that Peter Sellers met Harry Secombe. His army pal, Michael Bentine was also soon to join the Windmill and it is from here they recruited Spike Milligan and launched the legendary Goons.
Ronnie and Peter began a friendship and visited each other's homes until Peter began to make a name for himself. I was dumped are the words Ronnie uses as were many other of his friends. There were at least eight freemasons amongst the staff at the Windmill and many were members of Chelsea Lodge, including an Alfred Van Damm, almost certainly related to Vivian. None of them had much good to say about Peter Sellers joining the fraternity. It became apparent that it was his ambition driving him. There were soon rumours, repeated and substantiated, that Peter, having set his sights on a radio and television career, was attempting to make suitable contacts in the BBC hierarchy by using Masonic signs and words to gain introductions. One report has him ridiculing the Craft, although no doubt, his very special brand of humour may have been misinterpreted. None the less, the Brethren of the Lodge were disenchanted with him. He only attended the dinner after his initiation and signed in as a non-dining member even on the two evenings of his passing and raising.
In the 1960s and 1970s alone, Peter Sellers appeared in over 60 films and was as popular in the UK as he was in America. He is seen, with his famous colleagues, Spike Milligan, Harry Secombe, and Michael Bentine, as a radio and television pioneer with The Goon Show, the slap stick and absurd program which was to inspire Monty Python's Flying Circus, Saturday Night Live, and even the Beatles! He was a successful man by any standards.
At the Chelsea Lodge meeting on 19 September 1980 the Worshipful Master Bro. Michael Hill called the Brethren to stand in memory of our highly esteemed Brother Peter Sellers who departed to the Grand Lodge above on 25 July 1980. Peter Sellers, however, had joined the Craft for the wrong reasons. He may have followed in his father's footsteps and complied with the fashion, following the war period, when many demobilised soldiers joined the Craft to find companionship. This does not, however, appear to have been the reasoning behind his intentions. He brought little into our Craft and derived even less benefit from it because Peter Sellers never embraced the true and basic spirit of Freemasonry.
Credits and bibliography:
Evans, Peter The Mask behind the Mask: A Life of Peter Sellers London 1969
Sikov, Ed Mr Strangelove A Biography of Peter Sellers London 2002
Skues, Keith - currently writing a history of the Chelsea Lodge
Stanley, Harry The First 75 Years Of The Chelsea Lodge No 3098 London 1980