Pictures you look at. . . . . Hogarth you read
Un-attributed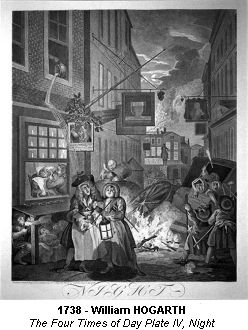 William Hogarth's lifetime – between 1685 and 1764 – spanned that period in English history which saw the birth of organised freemasonry. His unique chronicle of British society showed London and Londoners at their best and worst and freemasonry was an integral part of that society.
To understand Hogarth's involvement with freemasonry, both artistically as well as personally, we need to appreciate the Masonic environment in those early days. It is not easy to transport ourselves to 1717 when four Lodges in London united to form what is now referred to as the Premier Grand Lodge of England. It was then a mere dining and drinking club, one of many similar fellowship societies soon to develop into a respected entity. That special environment is manifest in William Hogarth's first print of Masonic interest. It is revealing and appeared prior to his becoming a freemason in 1725. Two years earlier in 1723, James Anderson's first Book of Constitutions was published. It was to become a milestone in several respects. Whilst it established freemasonry on a strong footing as an institution of consequence, it was also to cause considerable tension and a split in Grand Lodge. The original founders, who had often been associated with Jacobite inclinations (unjustly and probably because of the 'secret' nature of the Society) saw in the new constitutions a major deviation from the original genial and sociable drinking and eating club atmosphere the society had enjoyed. The constitutions had indeed been instigated by a stronger and more influential faction, consisting of intellectuals and members of the nobility, which included the 2nd Duke of Montagu and John Desaguliers amongst others. The dispute reached a head in June of that year when the renegade Philip, Duke of Wharton, a past President of the notorious Hell-Fire Club, a recognised and self-declared Jacobite, was elected the 6th Grand Master of the Society in preference to the continued leadership of the Duke of Montagu. A compromise, which lasted just a year, saw the appointment of John Desaguliers as the Deputy Grand Master. A year later, at the 1724 elections, Wharton was defeated by one vote and the Earl of Dalkeith was elected Grand Master. In a typical huff Wharton stomped out of Grand Lodge.
In an attempt to pre-empt any mischief by Wharton, who had threatened the withdrawal of all of his supporters from Grand Lodge, some members of Montagu's faction published, as a hoax, an advertisement announcing the formation of a competing body called The Gormagons. The simple plan was that the announcement of the formation of this new body, which denigrated the standing of freemasons, would discredit Wharton by implication and ridicule his competitive initiative.
It is this situation which William Hogarth exploited, as any good caricaturist would today. Masonry brought to light by the Gormagons, first published in December 1724, is a classic Hogarth print that combines the many elements that have made his work unique and depict his genius at its best. The print is a masterpiece describing and satirising the circumstances detailed above. Symbolism is rife: the ancient craft of freemasonry is represented by an old lady riding an ass, James Anderson, (this apparently being the only known image of him) has his face far too close to her backside for comfort, implying the Scottish Presbyterian Reverend's subservience to the society. A tall and prominent Duke of Wharton stands in the guise of Don Quixote, directing the proceedings and behind him a corpulent John Desaguliers appears as Sancho Panza. The stance is taken from Coypel's popular print selling in London at the time and shows Hogarth's initiative and familiarity with current affairs. The monkey in Masonic gear represents the 'aping' of freemasonry by the Gormagons. The original advertisement stated that the new Order had recently arrived in England and was founded by the Emperor of China, thus the four Chinese sages leading the procession, itself an allusion to the public Masonic processions that had just began to appear in the streets of London. The ladder, bucket and mop, tavern signs and other emblems show Hogarth to be au fait with Masonic matters. It should be noted that the Society of Gormogons – the alternative spelling to Hogarth's Gormagons – was an active organisation attributed to Wharton as a founder and which spread through England and appears to have survived to the end of the century as a rival organisation to freemasonry.
Hogarth had begun his artistic career as an engraver by being apprenticed to a silversmith. He was soon to become bored. He started painting what became known as conversation pieces. By using his own distinctive style and initiative and refusing to copy the work of established Masters, he quickly made a name for himself. There is no exact date of William Hogarth's initiation into freemasonry, at a time, we should remember, when there were only two degrees in the Craft. He is recorded, however, as one of nine members of the Lodge meeting at the Hand and Apple Tree in Little Great Queen Street, Holborn, when it was consecrated in November 1725. The Lodge, which took on the number 41, moved to Westminster and returned to Holborn but was erased in 1737. By then Hogarth had become a joining member, in 1730, of the newly constituted Corner Stone Lodge which amalgamated with St George Lodge in 1843 and is now the St George and Corner Stone Lodge No 5. There were a number of well-known and influential Masons who were members of the lodge.
There is little doubt that William Hogarth's successful career, both as an artist and a Freemason, was influenced, even motivated, by Sir James Thornhill, his father in law. William's relationship with Thornhill did not start in the best of terms, since he eloped with his daughter Jane and clandestinely married her at the Old Paddington Church in 1729. Nevertheless they became friends and Hogarth admired and respected Thornhill and remained loyal to him all his life, even when the latter's fortunes began to decline.
Sir James Thornhill (1675-1734) was a well known and accomplished painter whose frescoes still adorn the interior of the dome of St Paul's Cathedral and the Painted Hall in what is now the Old Royal Naval College at Greenwich. He was the Governor of the precursor to the Royal Academy and a founder of the Art College in Covent Garden. Though he was to be deposed as a leading artist and lost power and credibility in his later years, James Thornhill had been an influential man by any standards. He was to become a Member of Parliament for Melcombe Regis (1722-24), having been knighted in 1720 and appointed Serjeant Painter to King William III a year earlier - a position that Hogarth was to emulate with King George II in 1757. There was an element of mutual benefit in the relationship between the two. Hogarth's influence as a commentator and chronicler of current events was growing. This was a time when illiteracy was prevalent and 'a picture spoke a thousand words'. Thornhill was in need of the support of the general public in his efforts with the Art College. Hogarth's endeavours on behalf of his father in law earned him important introductions, which led to lucrative commissions for major paintings, some from prominent masons.
James Thornhill was also an active member of the Craft. He was Master of the Lodge meeting at the Swan Tavern in Greenwich in 1725 and gained the very high rank of Senior Grand Warden in 1728. It should be remembered that this was a period when to be a freemason was a fashionable activity in an environment where joining and attending clubs, coffee houses and various societies was very common place. Freemasonry stood out as an institution because of the quality and the high ranking standing of those who had become members since Dr John Desaguliers was elected the third Grand Master in 1719. Academics, aristocrats, noblemen and even members of the Royal family were soon to patronise the fraternity. Thus, Sir James Thornhill joined the Masonic institution by right, so to speak, by his standing as a member of parliament and of the nobility. William Hogarth, on the other hand, was born into an impoverished family and he needed Thornhill's introduction to join a suitable Lodge consisting of men well above his own social standing. Hogarth's incisive and critical pen did not differentiate between friend and foe, freemasons and the profane. He depicted what he saw and his subjects were at his mercy. His father in law, in the two portraits that Hogarth painted of him, got away lightly. The more important oil painting is a full portrait of Sir James in his wig and silk waistcoat, wearing a large blue flapped Masonic apron under his grey cloth coat and holding a glove in his left hand. Round his neck is a light blue collarete from which hangs a silver level, the Senior Warden's jewel. Hogarth now enjoyed incorporating Masonic emblems into his paintings. The window frame is an obvious square and the shadows in the foreground and the floor pattern allude to recognisable Masonic symbols.
John Wilkes (1727-97) did not get away so lightly. Hogarth's detailed and accurate 1763 depiction of the controversial champion of liberty became a major issue of contention between the two men. It depicted with pitiless accuracy Wilkes' physical defects, his distinctive squint and cynical grin which was a recognisable feature of the politician as well as his arrogance and defiance. So accurate was this depiction that in August of that year the son of a Scottish Jacobite challenged Wilkes to a duel in Paris, having recognised him from Hogarth's print! This was Hogarth at his best displaying that very special ability to portray the character of his subject, superimposed on life-like features easily recognised by his contemporaries. Hogarth and Wilkes had been friends but were now at the opposite ends of the political spectrum and Hogarth was able to express his animosity through the portrait. It also expressed Hogarth political views. The squint, the flag bearing the word Liberty and Wilkes' overall posture had connotations of falsehood and hypocrisy. Wilkes interpreted this painting as a betrayal and not a portrayal and expressed his anger in an essay, supported by a poem by his colleague Charles Churchill, fiercely attacking Hogarth as vain and selfish and on the decline. Hogarth retaliated with a print emphasising Wilkes' indebtedness and the bitter exchange continued for some time, finally the more elderly Hogarth surviving Wilkes' attempts to oust him as the leading political commentator. Some years later Hogarth's portrayal was to be vindicated when John Wilkes found himself imprisoned for publishing libels. It would appear that it was during this period, in 1769, five years after Hogarth's death, that John Wilkes was made a freemason in prison, by special dispensation of the Deputy Grand Master Charles Dillon. He became a member of Jerusalem Lodge, now no 197. In later years the Grand Secretary Thomas French and other Grand Officers were to deny that his initiation ceremony took place whilst he was incarcerated at the Old Bailey.
Wilkes is not the only man with whom Hogarth found himself at variance. By the very nature of his work he was bound to antagonise those whom he depicted. The truth always hurts. Earlier in his career, in 1736, Hogarth found himself at loggerheads with one Sir Thomas de Veil (1684-1746), a justice of the peace and a member of the Lodge meeting at the Vine Tavern, Holborn which Hogarth also frequented. The antagonism between the two Brethren was to lead to the best known of all of Hogarth's Masonic prints, namely Night, one of a s set of 4 prints collectively entitled Times of Day, of which Night was the fourth.
The set of four prints are to be seen in context as they tell a story of a day's happenings in the streets of London. The last print reflects the not uncommon late night celebrations in the back streets of the city. Freemasonry, identified still as a dining and drinking club, falls into this bracket of revelry. Thomas De Veil, wearing his Master's collar and jewel, is blatantly drunk, being helped home by the Grand Tyler at the time, Andrew Montgomery, 'Garder of ye Grand Lodge', a well known and popular figure amongst masons. The print, typically, is filled with detail and innuendo. Celebrations are on because it is the anniversary of the restoration of Charles II, on 29 May 1660. The barber is performing his art as a surgeon. In the background is the sign of the Rummer and Grape Tavern in what is now Northumberland Avenue. There is considerable significance to the content of the chamber pot being poured over De Veil's head. It is a commentary and gibe at De Veil who was involved in the legislation banning the popular trade in gin. On one well-publicised occasion, the unfortunate De Veil, whilst testing the liquid content of a bottle in a tavern, inadvertently found himself gulping down a mouthful of urine! De Veil, known to be a heavy drinker and womaniser, was nonetheless quite an extraordinary character. He had had no fewer than 4 wives and 25 children. He had fought in the War of the Spanish Succession and when appointed Stipendiary Magistrate in 1738, acted decisively and with passion. Hogarth's humiliating depiction of his fellow mason went beyond any consideration of fraternal loyalty.
Hogarth reached the peak of his Masonic career on his appointment as Grand Steward for the year 1735. His name will forever be associated with the Grand Steward's Jewel now known as the 'Hogarth type', which he designed in the same year on the occasion of the formation of the Stewards' Lodge (which was to be named Grand Stewards' Lodge and be placed at the head of the roll, without a number, in 1792). It is 60mm in diameter and incorporates the level, plumb rule and square encircled by twenty-four flames which touch the outer border, decorated with brilliant stones. The jewel was in use until 1835 when it was superseded by a new centenary jewel and is now an exceedingly rare collector's piece. There is an excellent example of the jewel in the Worcester Masonic Museum. Hogarth was to continue to depict freemasons on several occasions. In doing so, as was the case with many of his other portrayals, he often antagonised his contemporaries and is seen as a controversial painter at best and cantankerous and spiteful at worst. Hogarth's world was one of greed and passion and he satirised and described what he saw as 'hot news' without consideration for theme or the individual standing of those concerned. Hogarth died in his home in Chiswick in 1765 and left behind an accurate pictorial account of England in the first half of the 18th century. He was a chronicler of events and people. He was not a caricaturist in the same sense as, for instance, Thomas Rowlandson and George Cruikshank. Hogarth was, foremost, an artist.
Bibliography
Bindman, David Hogarth Thames & Hudson 1999
Dyer, Colin The Grand Stewards and Their Lodge Grand
Stewards' Lodge 1985
Knight, G Norman Hogarth's Bicentenary' The Masonic Record
December 1964
Paulson, Ronald Hogarth: His Life, Art, and Times Lutterworth
Press, 1993.
Uglow, Jenny Hogarth London 1997
Ward, Eric William Hogarth and his fraternity AQC 77 (1964)
My appreciation is extended to my long standing friend Finbar MacDonell for his invaluable guidance in all matters relating to Hogarth prints.