Born : Istanbul,Turkey, 12 June 1940.
Nationality: dual British (European Passport) and Israeli.
Education: in Turkey & Italy, then Romsey College (U K), Hebrew University of Jerusalem, Faculty of Law, 1967 LLB; University College. London, postgraduate law studies.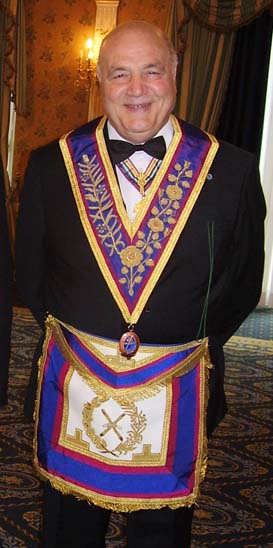 Masonic career :
Initiated in Lodge of Faith & Friendship No 7326 (EC) October 1975;
Master 1987/88, Secretary 1988/96, Chaplain 1999/2000
Appointed to London Grand Rank 1991;
Founder Member of Mount Sinai Lodge 8991 (EC) & foundation SD 1980:
Master 1982/84, Chaplain 1995/96, Almoner 1997/2005
Founder Member of Montefiore Lodge of Installed Masters No 78. Grand Lodge of the State of Israel, December 1996, Master 1998/99;
Invited to join Quatuor Coronati Lodge No 2076 (EC) February 1991,
Treasurer 1992/1995, Master 1997/8, Chaplain 1999/2001
Joined Euclid Installed Masters Lodge No 7464 (EC) 1979, Chaplain 1999;
Joined the Civil War Lodge of Research No 1865 (Virginia, USA),July 1998;
Appointed Past Grand Standard Bearer (PGStB) of the UGL of England 30th April 2003
Appointed PGSW Regular Grand Lodge of Italy July 2003, (resigned 2012)
Appointed Honorary Grand Senior Warden of the Grand Lodge of the State of Israel, January 2005.
Proclaimed a member of the Order of Blue Friars (USA), February 2009
Appointed Grand Librarian, Regular Grand Lodge of Italy, 2010 (resigned 2012)
Honorary member of the following lodges:
Ars Macionica No 30 (RGL of Belgium). 1998.
Fraternidad No 68 (Spanish speaking).Tel Aviv (GL State of Israel), 1996.
Michigan Lodge of Research No 1, Detroit (Michigan. USA),1994.
Semper Fidelis No 5990, Charleroi (RGL Belgium), 1993.
Tommaso Crudeli No 21, Arezzo (RGL Italy), 1994.
Affiliated with the Lodge of the Holy Land No 50 (GL State of Israel), 1991.
Chimera Lodge No 160 Arezzo Tuscany (Past Master 2003).
Lux et Veritas No 300 (NGL of Romania) 2010.
Beyond the Craft :
In England
member of HRA (PZ, LGRC). Mark (PAGDC). Mariners(ProvGR), Royal & Select (TIM), OSM, Operatives (V°), August Order of Light (G of Light);
Abroad
member of HRA (Italy) (resigned 2012).
A&ASR (Belgium, 18°).
Other Masonic Lodges and bodies:
In England
Jewels of the Craft (Founder Member)
Leicester Lodge of Research No 2429 (Correspondence Circle)
Manchester Association for Masonic Research
Mark Token Collectors' Club (Founder Member
Masonic Philatelic Club
Temple of Athena Lodge No 9541 (Correspondence Circle)
Abroad
Southern California Research Lodge
Philalethes Society International
Scottish Rite Research Society (Southern Jurisdiction,USA).